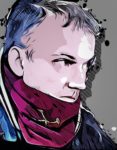 Gonzo talking
Picking a West Ham team for each upcoming game is a pastime familiar to all Hammers fans.
Some of the selections such as Rice, Antonio, Bowen and Cresswell require little or no pondering but other positions often need more consideration. I seem to swing between Coufal and Johnson at right back but they're both fine players and there's not much between them.
However the left of midfield doesn't enjoy the same strength in depth and it's often the case that I find myself looking at who's the 'least worst' option rather than the best.
Fornals will often get shoe-horned into a left wing role but it's clear to everyone than he lacks the qualities to play that particular position. Nikola Vlašić was purchased at huge expense but has struggled to make a real impact at West Ham during the first half of the season.
So it would seem that there is a clear route and a guaranteed first team place available to Said Benrahma if he grasps the opportunity.  In many respects it's a perfect storm for the Algerian magician. He's fit and unaffected following a spectator role at the ACON and manager Moyes was unable to force through a deadline day deal for Jesse Lingard.
The planets have aligned for Benni but watching him huff, puff and toil against the Kidderminster and Watford defences it's apparent that he's not a left winger. I don't doubt that he is the most skillful player in training each day but the requisite repertoire for a winger is pace and crossing . . . . he falls short on both counts.
Benrahama is a player without a position at West Ham. In many respects I think he's the wrong player at the wrong time, under the wrong manager. His skills are not in doubt as can be seen when he is in the box but those occasions are too infrequent. Stuck on the left of midfield he just doesn't have the necessary attributes to impact the game.
We purchased him for a few million more than Jarrod Bowen because they were both outstanding players in the division below. Whereas one player has continued to improve and who's value has increased the other seems to be merely existing. He needs to be played in a free role very close to the striker but that just ain't happening under Moysie.
I think he needs to try and have a strong finish to the season and find a way to function in a wide position. The platform is there for him and there's very little competition but next season he may well find his route to the first team is blocked.