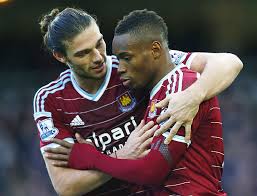 West Ham open their series of pre-season matches against Fulham next Thursday evening and one question dominates above all other – will Andy Carroll, Diafra Sakho or both make an appearance?
The squad will be involved in a game against a Sturm Graz Developmnt team on Monday evening but the "real action " gets underway against the Cottagers on Thursday in Sportzentrum Graz-Weinzodl, Austria on Thursday evening.
Both Carroll and Sakho – who missed so much of last season – are with the squad and reported to be training. In the absence of a new striker/s signing it will be more than encouraging to see one or both involved perhaps in a preliminary get fit match against Sturm Graz. Their absence would be very worrying.
The clock is ticking on both players with the first Premier League clash against Manchester United at Old Trafford just a month away.
Meanwhile, as we reported, last week Premier Sports HD has purchased the rights to five games involving the boys.
The matches will be shown on the Sky channels 428 and 462, Virging Media 551 as well as a streaming service called Premier Player.
The channel costs £9.99 per month on a rolling contract but can be cancelled at any time.
Full details at http://www.premiersports.com
July 17 v SK Sturm Graz Development team Bad Tatzmannsdorf, Austria
July 20 v Fulham FC at Sportzentrum Graz-Weinzodl, Austria
July 28: v Werder Bremen (Schneverdingen, Germany)
July 29: v Werder Bremen (Lohne, Germany)
August 1: v Altona 93 (Hamburg, Germany)