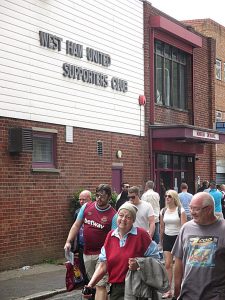 West Ham's 70-year-old Supporters Club committee is asking Hammers fans where they should concentrate their efforts going forward as they attempt to save the loss-making social club.
Options on the twitter poll include saving their castle street premises, finding a permanent home closer to Stratford or a mixture of both.
With the current closure of the Castle Street premises on health and safety ground, the new committee has set up a pop-up bar close to the London Stadium for members on match days.
The new venue at Stour Space is open from 10 am until 10:30 pm for weekend matches and 4pm until 8pm for weekday matches. Breakfast will be served from 10 am weekends with food available throughout the day to members. Matchday four pints jugs will be available as well as a bottle bar.
Funds raised from the new matchday bar will be used to help maintain and keep the Castle Street premises and also to help fund a possible permanent venue closer to the London Stadium. More details at https://www.whufcsc.com/stour-space
The executive committee is working hard to provide options for members for our future. What's important to you?

— WHU Supporters Club (@WHUSupportClub) November 1, 2017