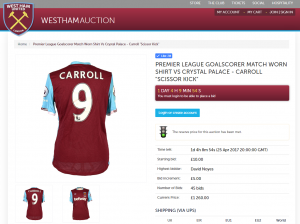 West Ham is selling shirts off their player's backs in a new auction site launched in association with Germany company Sportnex.
The proceeds of the sale appear to go straight to the club as there is no mention of any charity or even the West Ham Academy as beneficiaries of the sale.
The new scheme follows the same idea launched by Arsenal in 2014 and some of those same directors who worked for our North London rivals at the time are now in charge at West Ham.
In addition to Arsenal, Liverpool, Crystal Palace, West Brom and Millwall have identical auction sites for their players worn shirts with the same German auction company.
Andy Carroll's shirt in which he made the famous scissor kick against Crystal Palace at the London Stadium is currently listed on the auction site at £1260 with David Noyes as the highest bidder with just over a day to go.
In other live auctions promoted by the club on social media Antonio's home shirt against Palace is currently listed at £263, Reid's shirt is £220, Byram's shirt has reached £165 while Feghouli's home shirt is at just £130 so far.
The new website says "West Ham United Official Fan Auction Store is the auction portal for original sports goods and memorabilia operated by Sportnex GmbH under licence from West Ham United."
The auction site can be found https://www.officialwesthamauction.com