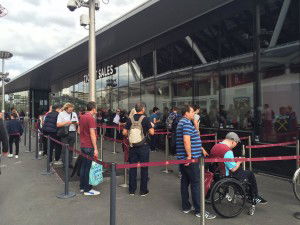 Season Ticket sales for the 2019/20 Premier League campaign are set to open to supporters on the Waiting List from this morning. The waiting list is said to number 36,000 at present.
With a record 94% of Season Ticket Holders renewing, surpassing the previous renewal rates at London Stadium around 3,000 season tickets will be made available to those on the waiting list.
The club has given advice to anyone on the waiting list which can be found below.
First and foremost, it's imperative that your contact details are up to date so we can contact you about your priority sales window to secure a Season Ticket. Login to your account at eticketing.co.uk/WHUFC or call us on 0333 030 1966 to update your details
Receive your priority sales window – supporters nearest the top of the Waiting List will be notified by email and SMS of your priority sales window to secure a Season Ticket. However, please note that due to the high renewal rate, we cannot guarantee all supporters on the Waiting list will get the opportunity to secure a Season Ticket at this point
Select your seats – if you receive a priority sales window, you will then be able to select your Season Ticket seats either online or by calling the Ticket Office. We strongly advise supporters do this as soon as their priority window opens, to not only get the best pick of available seats, but to ensure you don't miss out altogether
Any supporters on the Waiting who have previously been offered a Season Ticket priority window, and are offered one again for the 2019/20 season and choose not to purchase, will be removed from the Waiting List.