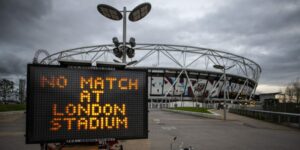 Of the 20 Premier League clubs, 17 have suspended the season ticket renewal process — Newcastle, Everton and Norwich are the exceptions, although they will offer payment holidays if requested. Premier League clubs recorded season ticket sales of over £400m for this campaign with West Ham's amount around £23.5m
The majority of clubs have already committed to offering refunds or future discounts to fans who cannot attend rescheduled matches, and the others will surely follow after reviewing their ticketing policies.
Refunding season-ticket holders either in cash or discounts will cost Premier League clubs a total of £101m based on this year's prices, and that figure rockets to £177m when corporate sales and other matchday income is taken into account.
Liverpool have said that if home fixtures in the 2019-20 campaign cannot be played in front of supporters, refunds will be issued to season ticket holders, or a pro-rata credit will be applied to their season ticket for the 2020-21 campaign.
Manchester United say if this season's remaining fixtures at Old Trafford are played behind closed doors, season-ticket holders will get a pro-rata rebate against season tickets for next year, or a pro-rata cash refund based on the number of games still to be played.
Leicester City have confirmed that season tickets will remain valid if and when the fixtures are played. However, if they do not go ahead, or are played behind closed doors, fans can receive a cash refund, or can offset the value of the affected matches against the price of their season ticket for next season.
Chelsea have also announced plans to reimburse all season- ticket holders the fee for every match played behind closed doors this season.
West Ham along with others have yet to publish and update their ticket policies with financial woes are thought to favor a discount for next season's season ticket where possible.
The Football Supporters Association (FSA) are sais to believe all clubs will have a legal obligation for a cash refund if games are played behind closed doors.