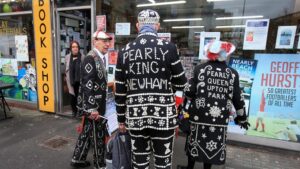 According to the London Museum, Cockney Rhyming Slang and Cockneys are a dying bred on the edge of extinction.
Immigration has had a big part to play in Cockneys becoming an endangered species with an influx of all nationalities into the East End speaking what some have dubbed MLE (Multicultural London English)
The very definition of a true cockney must be born within earshot of the bells of St Mary-le-Bow Church, Cheapside.
In days gone by, they could be heard across much of north and east London and as far south as Southwark, meaning any baby born within earshot was defined as a Cockney. Now, research suggests the noise of the bells only reaches the city of London and Shoreditch.
Not only is there little private housing in the area, but the only hospital now within earshot has no maternity ward on-site.
Youngsters born to Cockney parents have not carried on the tradition of using Cockney rhyming slang or back slang and now that language is considered to be 'brown bread' if you will excuse the pun.