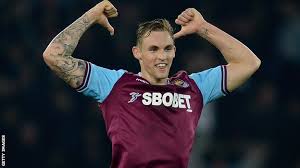 Quietly spoken and modest Jack Collison gave one of the great sporting interviews on Five Live this morning and made every one of us proud to be a Hammer.
And he made it clear that he believes that just as he broke through from the Academy, there are others now waiting to do the same.
Jack is currently looking for a club but in an interview devoid of all bitterness and anger  he spoke of his life at the Boleyn and what the Hammers will always mean to him
But asked by ClaretandHugh's associate editor Sean Whetstone whether there may be a way back to Upton Park for him he made it clear he thought his time was up.
Sean asked if like Carlton Cole, he could make an unlikely return  but Jack said:  "You never know of course but looking at the summer signings the club has made, they look to be heading in a different direction.
He spoke of his injury problems which some have claimed have reduced him as a player but he said: "I am dealing with that via extra strengthening exercises and the like.
"Obviously for me it"s important just to get back playing. I'm as fit as I have ever been in pre season and was available for every game last season.
"I was available for every game last season but was not picked. I am sure I will be ok in the future."
Jack spoke with great affection for his time at the club saying: "It was my life being part of the West Ham family from the age of 16.
"That's a tricky time in any young man's life but I was so well looked after and since then it's always been West Ham for me. I will forever carry my time there in my heart"
Questioned on the lack of youngsters coming through from the youth ranks  Jack commented: "It's not just true of West Ham – it is the whole of the League.
"But if the youngsters are good enough Sam will play them. Look at Ravel Morrison, he used him and hopefully ravel  will have a great season at the club this year.
"There are some very good youngsters at the club. Elliot Lee is a fantastic striker and may be he will be the next one through."