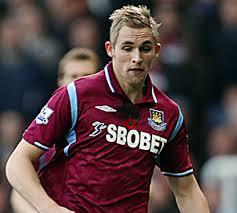 Hammers academy coach Jack Collison has surprisingly urged Andy Carroll to seek a loan move before the end of the day.
The former Irons midfielder – speaking on Sky Sports – declared: "It's getting to that time with Andy Carroll. He's fit, he's desperate to play games and he's not getting many minutes.
"So, for him, especially with the players West Ham are getting linked with at the moment, it could be an opportunity for him to go out and get some football somewhere because he brings a lot to the table.
"He's effective and he's totally different to a lot of strikers. It might be the right time for Andy to go and play some football and show everybody how good he is."
ClaretandHugh says: Maybe Jack means every word of what he says or is talking in some sort of code given the performances we have seen so far from Andy in a Pellegrini side. Truth is he just doesn't fit and looks like an old fashioned centre forward trying to keep up with a system he can't read or really understand. I feel a little sorry for AC if I'm honest because having been out for so long again, to find himself back fit and entirely unable to play the game he knows, must be as frustrating as it gets. However, I feel far sorrier for the fans who are having to suffer performances which frankly are just unacceptable given where we are at the moment. Fair play to Jack if he's trying to do the bloke a favour but the truth is that AC's time at West Ham United has come to an end – he is of the Allardyce era and has little to offer from what we've seen.