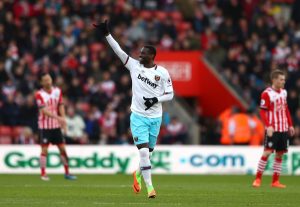 Dedicated Hammer Pedro Obiang is returning to Rush Green "in a few days" to ensure he is 10 per cent fit for the pre-season.
The midfielder explained: "I'm coming back to Rush Green to continue my fitness work in a few days because I have to work for to be ready for the fifth of July.
"I been on holiday with my family and some friends to Mykonos and Athens in Greece, Belgrade in Serbian and Montenegro, which was both interesting and relaxing, but now is the time to think about my work because I want to be ready to train and play."
And he added: "I have many good memories of my time with West Ham. The last game in Upton Park, the atmosphere and everything was amazing, and of course the game in the FA Cup against Liverpool when Angelo Ogbonna scored the winner in the last minute.
"This last season, the best moments were when I scored my first goal and when I saw the videos of the supporters singing my song!"
"I have two things to improve. I need to shoot more at the goal and give more assists to my teammates."