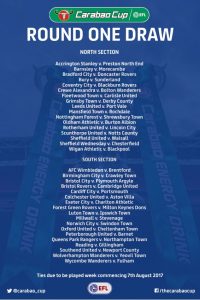 The EFL League Cup which will be called the Carabao Cup may cause West Ham another fixture headache.
Last Friday, the draw for the opening round of the newly-sponsored competition got under way with games being played week commencing 7th August.
As West Ham are not involved in any European competition this season they will enter the cup in round two.
Round two will not be drawn until August with games scheduled to be played on the week commencing 21st August.
If West Ham is drawn to play at home they will have a problem because the London Stadium will not be transformed into football mode by then following the 2017 World Athletic Championships which will finish on 13th August.
Stadium owners E20 Stadium LLP are contractually obliged to return the stadium to football mode by 25th August but even this is in doubt considering the length of time to move the troubled locatable last season.
West Ham could be forced to give up home advantage if drawn at home in the League cup.