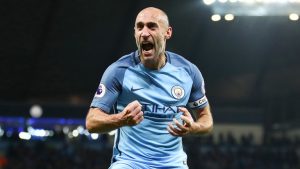 "It's a massive game on Saturday after the big defeat against Manchester United. It wasn't our best game. After the second goal we probably lost confidence as a team and knew the game was over and we conceded two late goals.
"We need to work and be mentally strong enough, even if we are losing 2-0, to fight until the end, and this is something we should improve.
"Of course, it's not time to panic or anything like that. It's time to be focused on the next game, which is Southampton away. It's going to be another tough match, but we have to believe we can get a good result.
"I've always got the same belief for every game. This is something we need to work on, even against the big teams. Of course, Manchester United away is always difficult, but you have to play those games and try to have confidence and the belief you need to try to get a result.
"Whatever the result, you have to make sure you have done everything to get something from that game and then, if you lose, keep your chin up and think about the next game.
"We worked really hard this week on the things we need to improve and be better at and I'm confident. We have strong players and we are at the beginning of the season and we are working really well."