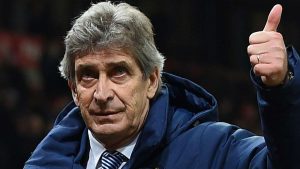 After an overlong international break – with all the usual sound and fury signifying  very little – it was good to be hearing from Manuel Pellegrini again today.
There's a calm about the manager which some red top 'experts' read as not being what you want in the middle of what they have helped to turn into a a 'crisis after err, four games!
I'd sooner listen to the manager who at least has experience of managing than some hack paid far too much money to produced off the conveyer bet stories!!!!
The boss answered everything asked of him in his presser with composure declaring of four defeats on the trot: ""I don't worry about the statistics"
"In this moment I trust more than ever in what I do. It's not the first time in my career I have had bad results. It's not a good start but we are absolutely confident.
Every job is tough. Maybe when you want to do so many changes it can be difficult but I think at West Ham, this is the correct way. We are improving the training ground, brought the players, grown with the stadium."
Whatever the average punter – such as myself may believe – this guy is far better and more successful at his job than I and most others have been at theirs.
I like what I heard from him this morning and am staying with my prediction of an Irons win tomorrow given that draws against Wolves, Bournemouth and Huddersfield with a win over Saints should barely provoke much fear.
In fact it looks like the near perfect game at this stage. Mind you I may be singing a different tune Sunday night if we fail to come away with something!