The football fan who invaded the pitch and planted a corner flag in the centre circle is a respectable businessman who has voluntarily handed himself into police the Daily Mail have revealed. Sixty-one old travel operator Paul Colborne actions were seen by millions on television around the world.
'I hadn't planned anything, but I just felt I had to do something. You have to stand up for what you believe in. People have died and been put against a wall for what they believe in.  I had to do something. I wasn't being violent, but I couldn't take it anymore when Burnley went 2-0 up.
'I got out of my seat in the Bobby Moore stand and climbed over the fence, got the flag and walked towards the centre circle.'
'I am also worried and found it scary when the police said West Ham would be bringing a civil case against me. If they get fined say £30,000 they could come after me and I won't be able to pay, but mine was a symbolic gesture. That was all I was trying to do.
'I am a very worried man now. I don't want people to say that I am a mindless thug and that the flag was an offensive weapon. That is rubbish.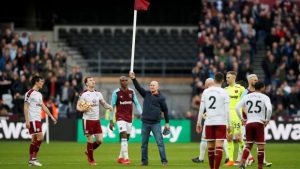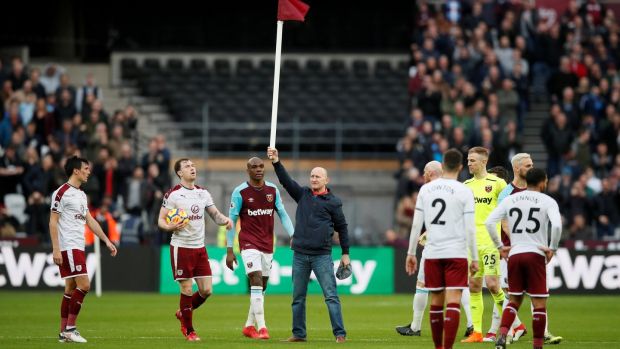 'Encroaching on the field of play is a criminal offence, but I am worried that they were going to link it all with those people who were semi-violent. I want to be dealt with as a separate entity which I believe it is.'
'I do regret what I did. But it happened out of desperation. Even the steward who led me away said " I agree with you mate…fair play to you", but he took my season ticket from me. What worried me more was they said West Ham would be making a civil court case against me and I find that really scary. Mine was supposed to be a peaceful symbolic protest or gesture that we fans can't take this anymore.'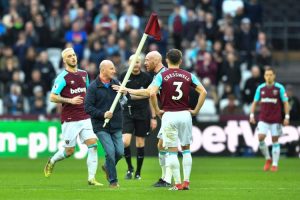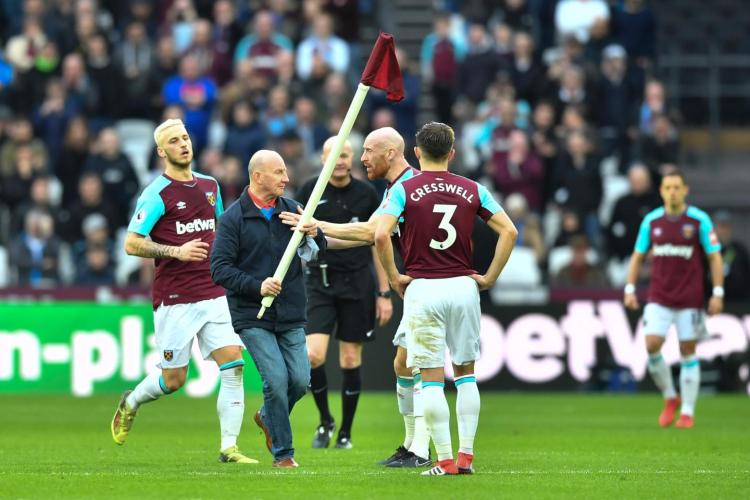 'They have lied. I hate the stadium but the carrot from them was that we would have a half-decent team. Instead we have got a horrible stadium and a team that hasn't delivered anything. We play reserves in the FA Cup. Against Wigan which is a third-tier team, they were the favourites and they beat us. The thousands of supporters who pay good hard-earned money do not deserve to be treated like that.'