By Scott Alsweiler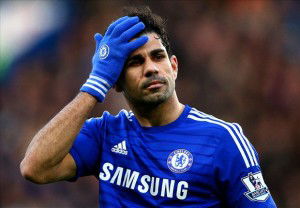 We've proved that we're no slouches, and last weekend was a great example of that. But we do look a bit fragile at home. This Saturday is our chance to show we've grown. The key to this one will be remaining calm.
Leroy has rightly pointed out that Terry looks vulnerable – and he'll look even more so under the probably withering chants from the stands – and our pace and maneuverability should rattle him very quickly. Once we've done that, and put one or even two into the net, I expect Chelsea's mental strength (which I believe to be already shaky) to collapse.
 That isn't to say that they'll be a pushover. If they get in early, and look dominant, then the reverse could easily happen. Chelsea seem to be at something of a crossroads in their season. They could either recover and be a commanding force (albeit probably not title contenders), or collapse into the lower mid table for the season.
They may also be tired after their travels this week. All of this can play into our hands, if we go out confident and exploit any weaknesses. Mourinho's press conference suggests those weaknesses are there. A manager who fails to exude confidence will not impart it to his team.
We know Reid is out, and that our Ginger Pele is likely to start. You can't ever fault Collins on his heart. He plays with his entire being. But he does make mistakes, and those can be costly. Having said that I rather l look forward to watching Costa run into the big Welsh wall. If Collins is on his game, Costa might well regret coming to the Boleyn.
Our other missing man is Victor Moses.  We're not exactly short of options here. I think Antonio deserves to play at least a sub role tomorrow, but would probably start Valencia. Let's see him back out there and try and re-ignite his partnership with Sakho.
While it would be his first run out since his injury it would be a great chance to have him prove his place in the squad. We know he has impressive talent, and his pace would fit well into Slav's setup.
So here's to it. Let the game flow naturally and don't feel pressured. That has probably been our biggest fault at home so far. We can, and should, win this one. A loss wouldn't wreck our season, but wouldn't be indicative of our quality either.
A draw wouldn't surprise me, but I think our expectations have grown beyond that.  I'm going for a 2-1 win. 3-1 if we shock them early (and don't fade at the end of either half – a bad habit of ours in injury time).  We are West Ham. And we're going to add another scalp to wall.