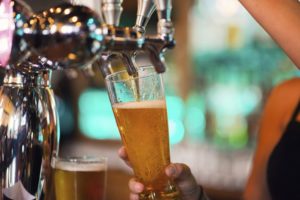 London Stadium owners have spent close to a million pounds to resolve a dispute with West Ham over the availability of draft beer in hospitality lounges. E20 board minutes recently published reveal the extent of the cost the rectify the problem.
Last year West Ham won a legal expert determination-forcing E20 to provide draft beer in all lounges under terms of the Hammers concessionaire agreement for the London Stadium.
The E20 board approved the expenditure of £353,000 last July to upgrade four lounges to draft beer and revealed that all lounges would cost in the region of £700,000.  Earlier this year the stadium owners paid a further £25,875 for a 'Draft beer expert site appraisal'.
The minutes also reveal for the first time that E20 paid West Ham £202,000 in legal costs for the expert determination which included the availability of draft beer and TV in corporate lounges, the cost of hostesses in lounges and the pitch surround.