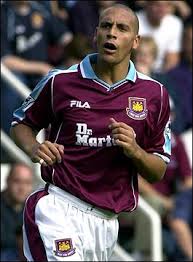 Tony Cottee cannot remembering swearing at Rio Ferdinand in his life despite his former 'boot boy's" recollections in his autobiography.
TC has had a personal invitation from Rio to attend the book's launch next month and is looking forward to it.
The former Hammers central defender claims in the tome #twoSides that he heard someone shouting:  "Where's that f***ing Ferdinand?" and emerged to see Tony Cottee.
He writes that TC said: "Where's my f***ing boots? – You're my boot boy. Where's my boots?"
Ferdinand told him they were hanging on his peg in the boot room where he'd been told to put them."
He claims Cottee said: "I want my boots with my training kit and tracksuit in my place every morning."
When I said that wasn't my job, he got angry declaring: "You're my boot boy and you'll do what I f***ing say.
"Then he walked off. So every day that year, Tony Cottee had everything exactly how he wanted it."
But speaking to ClaretandHugh, Cottee laughed: "I don't remember swearing at him. I am pretty sure I wouldn't say that – it's  not my style.
"There was a culture back then. I grew up under Frank Lampard Snr and that was a hard school – the boot boy had his responsibilities just like everybody else but I can't recall using bad language."