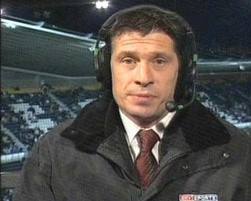 Tony Cottee has mounted a cheeky job application to become a football adviser at West Ham.
The former striker – whilst claiming the board have taken a huge gamble in getting rid of Sam Allardyce – then makes it clear he's the bloke to help them sort the future!
Speaking in his London 24.com column he says: "It's a huge gamble by the board going into what is one of the most important seasons in the club's history as we get ready for the Olympic Stadium."
He backs Slaven Bilic as Allardyce's replacement and says: " I know Bilic left us to join Everton. I am not going to criticise him for that as I did exactly the same thing.
"But Bilic has done superbly with Croatia in the World Cup, has managed in the Champions League and in some very volatile leagues, so that is why I would go for him."
Then comes the job application as Cottee declares:" One thing I would say is that I find it hard to believe that any board can go forward without someone who has played the game at a high level to advise them.
"I am always available, I have a huge passion for the club, but my phone never seems to ring.