By Simon Leyland
"I hate losing in every aspect, even when I play cards at home with my wife and she
beats me, I am furious. It's the same on the pitch", so sayeth one our bouncing
Czechs Vladimir Coufal.
Skysports managed to grab an interview with him, which makes interesting reading.
Never a man to hog the limelight, he comes across as a rather quiet individual off the
pitch.
However, despite by his standards having an underwhelming season thus far, the
defender was a permanent fixture over the previous two campaigns. But he has
found opportunities this season harder to come by following the arrival of Thilo
Kehrer in the summer.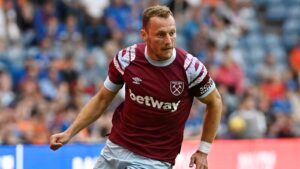 Between October 1 and the World Cup break, the 30-year-old played just 92 minutes
in eight Premier League matches. However, this was also balanced with playing
every minute of West Ham's Europa Conference League group games, winning each
one and breezing into the last 16.
Despite this Coufal never let his commitment drop. He will continue to 'die on the
pitch for the team' – as he says in his own words – as West Ham try to cement our
stay in the Premiership.
He goes on to say "We are still West Ham United and we have to be successful like
a team. Everybody is part of this team and this community and we have to be
successful together.
"For me, I'm always giving 100 per cent in the games and I'm 100 per cent focused
until the referee blows the final whistle. I think I am able to die for the team on the
pitch".
As PG Wodehouse would have said "An all round good egg!"