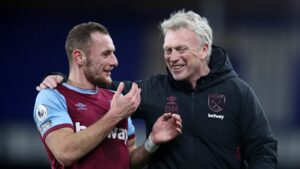 Vladi Coufal's injury blow should create a recognition among us all that we really don't often have a clue when discussing a player's form.
Deciding who should and who shouldn't be dropped on the basis of a few poor performances may not always been one of them however tempting at times may not be our job.
And strangely it was well known on this occasion that the Czech defender had been struggling with a groin issue for some time.
If the finger needed pointing anywhere it was maybe at the medical staff who decided he was fit to play after he was hit with the problem but in fairness groin issues aren't the easiest to read and solve.
As it stands he will – as we reported be out for six weeks – a serious problem with such a small squad and now only Ben Johnson available over there with Ryan Fredericks again a victim of injury after suffering a series of problems.
Vladi, meanwhile declared on Twitter replying to West Ham announcement which has since been deleted. : "I will come back stronger than before,"