Conor Coventry has been amongst the goals this season.
The West Ham U23 midfielder has scored three goals in four appearances thus far this term, and was again on the scoresheet in the clash with Colchester United in midweek.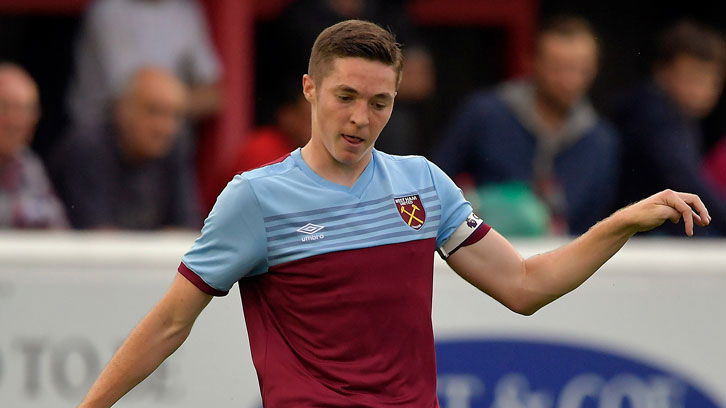 The Hammers have enjoyed a fine start to life in the EFL Trophy, which mixes youth sides with senior teams, and have thus far won both of their two games.
First off, they thumped Southend United 3-1 and have now beaten Colchester 1-0.
Coventry's goal was the winner and it was a brilliant strike; collecting the ball 30 yards from goal and sending it into the top corner. Had it not hit the back of the net, it may still be rising now.
And he was delighted with the goal as he looks to make an impression on senior manager David Moyes; Coventry has played just three times for the first XI, including six minutes in the clash with Charlton Athletic this season.
Speaking to the club's official website, he said, in reference to a promise that he would go on a scoring streak this season: "I was only messing around – I didn't think it was going to carry on!
"It's happened, though! I've started the season well. The whole team has started well. Even when we haven't really got the results, performance-wise, we've all played well – so it's good to keep it going.
"I've been practising [long-range shots] a lot when I could during lockdown, and also since we've been back in training, but I've not scored one like that in a game before! I'm buzzing with it."
The win opens the door to West Ham's kids qualifying for the knockout stages before their encounter with Portsmouth at Fratton Park, and the midfielder is looking forward to playing the League One side.
He added: "We'll be buzzing to go and play at Portsmouth.
"It'll be at Fratton Park, which is a Premier League ground really.
"It's a great opportunity for us and hopefully we'll be able to go and play with less pressure, enjoy ourselves and go and get a result again."