Here's my latest blog for www.london24.com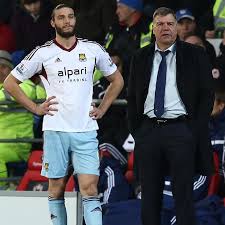 The word poor doesn't even start to get close to the performance the Irons produced against Manchester United on Saturday evening! Tonight they owe us!
I really don't want to dwell on the Manchester United display because quite apart from anything else I was pretty disgusted with my own behaviour.
I thought I'd left relentless effing and blinding behind a long time ago along with the rather ridiculous desire to try burying my fist into the wall!
But there's a horrible fatalism about watching the team this season – a terrible certainty that once we go behind we will get nothing back!
Along with all those feelings of anger and frustration was one of huge sympathy for Andy Carroll who was left entirely isolated and producing flick-ons to nobody.
It's a way of playing which I simply can't understand! There has to be room for a second striker – someone who can capitalise in on those superb headers the Geordie Boy produces.
With no midfielders getting alongside or ahead of him Andy becomes a massive luxury player whose role, quite frankly, becomes almost pointless particularly when, as was the case, Kevin Nolan was off his game.
Beyond that there was the sloppy passing, the surrender of hard won possession with a thumped ball forward and an over-reliance on the big fella as our one goal-scoring option which on Saturday saw us manage one shot on target.
And so to this evening and the arrival of a Hull City team who quite simply have to be beaten. Last week I produced my points scores and finishing positions of the bottom ten. I gave the Hammers a finishing tally of 37 and three of them came from this game.
Failure to get them will give us a shockingly hard uphill task which sees us at the Stadium of Light next Monday followed by games against Liverpool and Arsenal.
Beyond that it's Palace at home, West Brom away followed by Spurs (h) and Manchester City (a).
Co-owner David Gold said: "We are disappointed but not despondent. We are all looking for a response because this is the team that got great results in February – we haven't become  a bad team overnight."
Personally I  believe we will survive. I've been in and around football too long to write off any game but what's worrying is the lack of any Plan B when it starts going wrong  as it has too often this season.
Every game is played defensively be we at home or away with the offensive pattern being to break quickly down the wings and ply the big man with a much ammunition as possible…sorry you don't need me to tell you that!
Tonight I'm hoping that manager Sam Allardyce throws this cautious "do not concede " mindset which has appeared to follow him around this season  out of the window and really goes for it.
It would be great if he were to launch wing back Pablo Armero into action as this guy can really attack down the left and we need Antonio Nocerino to produce in midfield.
Anything less than victory will see the 'Sam Out' banners flying around Upton Park and that's something we can really do without at this stage of the proceedings.
Sam Allardyce splits opinion like no West Ham manager before him but whatever our personal feelings about the dude from Dudley, we all need to be behind him at this moment.