By Richard Oses of Bubbes Fanzine @ https://www.facebook.com/bubblesfanzine?fref=ts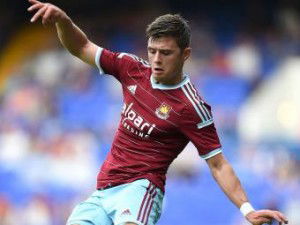 Aaron Creswell looks set to be awarded Hammer Of The Year tonight and looks a deserving winner.
He  has taken to the Premier League like a duck to water and at £3.5 million was a  snip, not least because he has managed to play every single game without injury which is a rare site for the Hammers these days.
He has been a revelation and despite not being as aggressive, he reminds me a lot of Julian Dicks.
He loves getting forward, crossing the ball and assisting goals as well as having a thumper of a left peg on him which sees him belt in the shots from 25 yards when he gets a chance, not to mention his set-piece ability being outstanding.
He is also a great defender and has not looked out of place against the Premier League's top players this season.
A worthy winner for those reasons alone but for me, this season, there are many who deserve a shout out. Take Adrian for example.
His penalty stopping, penalty scoring, shot blocking exploits have been nothing short of heroic. The man deserves to be Spain's number one, but for De Gea and Casillas being world class. If he was English he would be number 1.
Then there has also been the unsung hero, Chiekou Kouyate. This guy reminds me of a young Patrick Viera. He can run, pick out a gorgeous pass, he reads the game well and can score the odd goal as well. But for me, his wearing of West Ham's shirt with such pride and passion every week is something I really value. Alongside our new striker Diafra Sakho.
Not only is he the first striker we have had of late who loves scoring goals, his passion and love for the club already has him in the Tevez and Di Canio love affair bracket.
Whoever wins, out of everyone, deserves it that is for sure. There have been so many deserving players this season and on reflection, we have an outstanding squad of which  we can be proud.
Well done to all of them.