Tractor Boy fan Blair Ferguson from Ipswich Town supporters website www.twtd.co.uk speaks exclusively to Claret and Hugh about about our new left back signing Aaron Cresswell.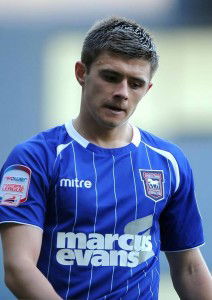 Aaron Cresswell proved his class in an Ipswich shirt from the moment he arrived at Portman Road – and has done so ever since!
During his three seasons at the club he has only missed eight games and was ever present throughout the 2013/14 season, which gives you some idea of the players fitness and stamina.
The real question will be if he can step up into the Premier League and the signs are he'll have no problem!
He successfully lifted his game from from League One to the Championship and I believe he can do the same again despite the PL being a much bigger challenge.
Like most modern day left-backs Cresswell is strong going forward and very effective on the overlap. He finished last season with the most assists in the Championship due to his excellent deliveries from corners and free kicks.
His set-piece deliveries could be a key part of his role at West Ham with the likes of Andy Carroll to aim for and I see that combination as being a source of more goals for the Hammers.
Despite his attacking and set-piece prowess the area of his game that needs work is his defensive positioning.
There were times last season when he was caught out and sometimes his pace made up that area of his game appears to need some work if he's to succeed in the Premier League.
Given a bit of time Cresswell can make a solid Premier League left back and chip in with a few assists and perhaps even some goals during his time at Upton Park.