Aaron Cresswell's surge form surge over the last couple of weeks has been a sight to behold after a long spell  in the doldrums.
At some stages it has had some wondering whether he may still be around next season never mind until 2021 when he current deal expires.
Should he carry on as he has been going,  it now  look far more likely that he would  be offered another as he rises to the challenge presented by Arthur Masuaku.
It's one of this game's most wicked ironies that such discussions as we've see surrounding our left backs has gone from entirely negative to positive in a matter of three or four games.
Cress capped a brilliant performance against Manchester United with a trademark free kick which maybe qualifier for our best goal of the season so far – I said may!
That was followed by another thunderous effort last weekend against Bournemouth as the Hammers staged a terrific comeback on the south coast.
As pointed out on the official site his absence from set piece duties down the years has been down to others in the squad with what may have considered stronger credentials.
WE are thinking Stewart Downing, Enner Valencia, Mauro Zarate, Dimitri Payet, Manuel Lanzini or Marko Arnautovic,
Now things appear to have turned full circle and the defender is back on the case proving he has lost none of those wonderful abilities.
And he made sure that on the back of his recent absences nobody was going to get the drop on him against United when the moment arrived for some magic.
Talking at https://www.whufc.com/news/articles/2019/october/02-october/why-free-kick-king-aaron-cresswells-patience-paying he said: "The funny thing was, I'd just had one about ten minutes before and it wasn't a bad effort, to be fair, it was pretty close, and I stepped up to the second one and I had it in my head that I wanted to take it.
"Yarma came up and he's a funny character and he looked at me and he said 'Really! Are you going to take it?' and we laughed about it. Anyway, I took it and luckily it went right in the top corner!"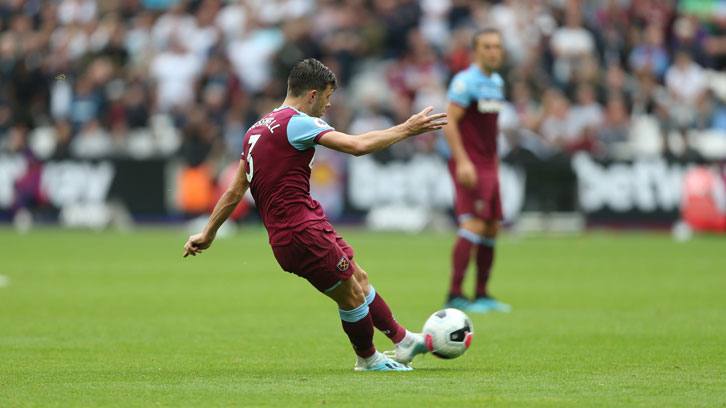 Pic via www.whufc.com
He added: "I've always fancied by myself from a dead-ball situation. Even back at Tranmere, 12 or so years ago, and then Ipswich, I scored a few, and I've scored a couple for West Ham.
"Of course, though, we had a couple of years when Dimi was here and I didn't get a look in, and rightly so! To be fair to him, he'd stay out after training and practice them every day and his standard was on another level. He scored a record number of Premier League free-kicks in a season, or something like that.
"Getting back to me, though, I have practised the skill since a young age and I always fancy myself to hit the target. If another one comes along on Saturday, hopefully I'll take it again!"