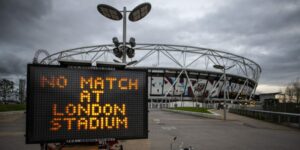 With the remaining Premier League fixtures due to be played behind closed doors for this season, football clubs will be hoping supporters return next season by renewing their season tickets but it might not be that simple.
Even with the Government furlough scheme money is likely to tight within families with some economists predicting the worst recession or depression for over three hundred years yet to come.
Added to the problem of lack of family disposable income is a possible medical factor which could equally keep crowds away from the London Stadium.
Many supporters especially those with underlying medical conditions or the elderly could avoid crowds until a vaccine is widely available.
West Ham have 54,000 season ticket holders and many may not renew for one or both of the above reasons.
This would have a further devasting financial effect for West Ham and to their cash flow with £23.5m of season ticket money usually banked in May.
The Hammers would no be alone and we could see attendance numbers drop across the Premier League with teams playing to half-empty stadia.
The Premier League may have to learn to live within its means,