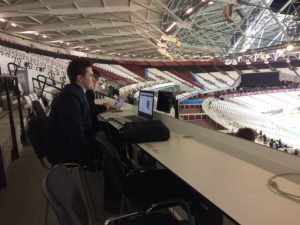 The London Stadium has come in for bashing from journalists this week just days after Spurs opened their new stadium with gushing reports from the media.
First came Henry Mance in the Financial Times who said "You simply cannot be a big club with a 36,000-seater stadium," said the Spurs chairman, Daniel Levy. He's probably right, although you certainly can be a small club with a 60,000-seater stadium, as West Ham, the inheritors of the Olympic stadium, prove. In the future, who knows what being a big club will require."
Next came Sun reporters who voted the London Stadium the worst ground in the Premier League while giving the new Spurs stadium the top spot. Dave Fraser wrote in the Sun "We asked our team of reporters – who spend their weekends camped inside the country's top grounds – to rank all 20 Premier League clubs' stadiums on everything from atmosphere and aesthetics to food and fans."
They scored London Stadium 20 out of 20 with a score of (4.92/10) saying   "BRINGING up the rear, it's West Ham's new home – the London Stadium.
The only stadium to score under five out of ten, Paul Jiggins calls it "the worst example of football gentrification." He continues: "The London Stadium has ripped the soul out of one of football's most vibrant clubs."
Claret and Hugh say: One would assume these reporters spend the majority of their time in the press box with their free food and refreshments, I am not sure what they know about the atmosphere, food and fans from their cushy media centre positions. It seems at times there is an orchestrated bias against the London Stadium because of the amount of taxpayers money spent on it and the politics around it.  This year's London Stadium survey filled in by thousands of match going fans shows perceptions are improving as West Ham get used to their new home three years in. There is still much to do but to suggest the London Stadium is worst than Selhurst Park is plain daft and suggests an agenda from the written press.