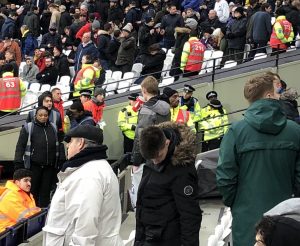 Crowd trouble returned to the London Stadium during West Ham's two-nil win over Watford yesterday thanks to some heavy-handed stewarding and policing.  Trouble flared again in block 114 in the West stand after the Hammers goal was ruled offside around the half-hour mark.  Away fans next to block 114 taunted West Ham supporters for an early celebration of a goal that was ruled out by match officials.  West Ham fans returned the banter to Watford fans with some shouting and hand gestures but stadium stewards on the segregation line over reacted taking exception this fan reply and threatened to eject individual West Ham fans they accused of bad behaviour.
A steward response team and Met Police officers were sent in which only made matters worse as they tried to identify supporters they wanted to eject from the stadium. The trouble intensified at halftime on the concourse outside block 113 and 114. A number of scuffles broke out, beer was thrown and supporters were forcibly removed from the stadium by police and stewards intent to follow through on their promises.
The trouble was a throwback to the early days of the London stadium last season when security staff and stewards overreacted and lost control.
The incident comes just two weeks after the original principle stadium stewarding company called OCS were stripped of their contract. The stewarding contract has been awarded to four separate stewarding companies each responsible for a different area of the stadium. Insiders claim that many of the stewards working for OCS including former Boleyn Ground stewards did not register for the companies replacing OCS leading to a lot of new faces in hi-vis jackets around the stadium.