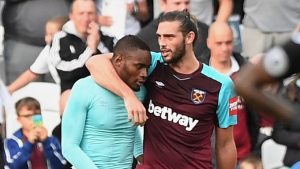 By CandH associate editor Sean Whetstone
Slaven Bilic has almost a full squad to choose from when West Ham face Burnley at Turf Moor on Saturday and all eyes will be on his first choice of striker.
The Croatian appears to favor Andy Carroll despite the striker giving away two goals and picking up yellow cards but in contrast, Diafra Sakho is in amazing form with the winning goal against Swansea and two goals in the League cup so far this season.
Sakho was recalled to Senegal and marked his return to the international stage with a vital goal in Senegal's 2-0 victory over Cape Verde Islands in Saturday's World Cup qualifiers.
Chicharito also showed he has still got what it takes when played in the right position by scoring for Mexico in the 88th minute against Trinidad and Tobago in the International break.
Meanwhile, Andy Carroll took three days off to take his family to Disneyland Paris during the International break.
On paper, Chicharito or Sakho or both should be up front on Saturday but Bilic has a habit of having complete blind faith in Carroll despite his lack of recent form.
Tomorrow will be a true test for Bilic as a manager but I can already hear the excuses now, Chicharito and Sakho were tired from travelling home from international duty so I had to start with Carroll up front.
I hope he proves me wrong.