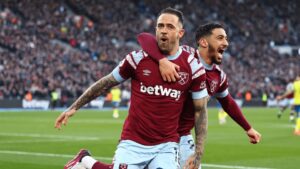 David Moyes played a game of smoke and mirrors before the game impluing heavily that Danny Ings would not be involved from the start of the game.
The £15 million signing from Aston Villa who can quote the word "goals" as his trademark during his career would have known different,
And his inclusion against Forest was the key which finally unlocked our goals "avalanche" with Declan Rice weighing in with the best of the match soon after and sub Mikey Antonio getting the hint for the first time in months and scoring with a great header.
But today was really all about the 30 year old Ings who was wreathed ion smiles as he left the pitch having kicked off our biggest win of the season.
Fair play too to Mikey who after his time at Forest refused the opportunity to celebrate a goal that would have seen off a few devils in his mind after the lengthy drought.
Ings. meanwhile told www.whufc.com: "I don't know what to say about [the goals]. I have just thrown myself at them.
When the ball is in the box, I just try to be in the best position. [The first goal] was an instinctive run, just gambling off Jarrod's shot. In that position, I knew I had to stretch for it, so seeing it hit the net was a wonderful feeling."
A brace on his first start, the first to achieve the feat since Forest substitute Jesse Lingard did likewise against Aston Villa in February 2021, will rightly see Ings take the plaudits. And yet, the 30-year-old was quick to share the praise around.
It was the sort of result that will hopefully shift momentum, especially after West Ham had controlled the majority of the first 70 minutes without making the breakthrough, before erupting in the final 20.
The importance of the triumph, the Irons' second in three home fixtures in 2023, cannot be understated then.
"At half-time, we said that we wanted to keep doing the same things, we were controlling the game, dominating the game," Ings added, "it was just about being more ruthless and in the second half we did that.
"But I stayed persistent and as a team, I think we deserved to win and to get a reward with goals is brilliant as well. We dominated the game from start to finish.
"For me, it is just the start on a personal note. As a striker to score your first goal, it gives you a really solid foundation to kick on and try and build some momentum.
"But doesn't matter who is scoring the goals whether it is me, Mick, Dec, Gianluca [Scamacca] or whoever, we've got the three points and we are moving forward as a team.
"We know how tough the Premier League is, so for us, it is about building momentum. There is no better way to do that than winning 4-0 at home, in front of our own fans."