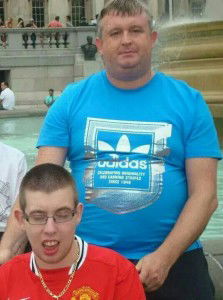 The family of a Manchester United fan who suffered a heart attack during a match at Old Trafford  last Saturday have thanked paramedics and a West Ham fan who stayed with his disabled son.
Carl Doran, 42, was sitting with his son, also called Carl, when he suddenly collapsed in front 2,500 Hammers away fans in the away end during Saturday's evening match with Manchester United.
Carl is a  full-time carer for Carl Jnr, 25, who has Cerebral Palsy and the pair attend every Manchester United home match together. Dad-of-six Carl had to be resuscitated with CPR twice, once in the ground and again in the ambulance, after his heart stopped beating following cardiac arrest minutes into the game.
He was rushed to Manchester Royal Infirmary where he remains seriously ill in intensive care with his family at his bedside. Carl has now been placed into an induced coma and his daughter Katrina said they were anxiously waiting for news from his doctors on his condition
However she said they were hopeful he would make a full recovery saying "We're hoping and praying he will pull through. He's a very strong man so I know he will."
An unnamed female West Ham fan who witnessed the incident, joined Man United club officials in waiting with Carl's son whilst he tended to by emergency services. Katrina said the family were extremely grateful to the caring Hammers supporter.
She added: "A really nice lady waited with my brother whilst they took my dad away and we just want to say thank you to her for her care.
"We want to thank the club as well and the ambulance service who did everything they could. We're really grateful."