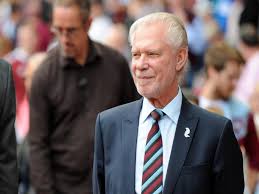 A West Ham supporter asked David Gold why we are plagued with hamstring injuries but the Hammers chairman has dispelled the urban myth.
A fan called Ross asked Gold: "Why do we seem to get more hamstring injuries than other clubs and they are always long term injuries as well?"
Gold replied "It might 'seem' like we have more hamstring injuries than other clubs but statistically this is not true. dg"
A quick check of Physioroom.com confirms what Gold is saying, the Hammers have suffered just four hamstring related injuries this season (Diafra Sakho 27th Nov, Winston Reid 30th Oct, Sam Byram 1st Oct and Sofiane Feghouli 7th Aug) In total West Ham have suffered 30 injuries since July, some of them involving the same player twice and in the cases of the unlucky Winston Reid and Havard Nordtveit three times each.
In comparison Arsenal have had six hamstring injuries this season (with three of those in the month of November alone) from 25 injuries in total since July. Stoke City have had nine hamstring injuries this season, three of which hit them within the last 30 days from a total of 27 injuries this season so far. Also spare a thought for Southampton who had five hamstring injuries on separate players in the spate of two weeks in October this season. Liverpool have had 45 injuries in total this season since July putting them way above us in the league of injuries.
As fans we always believe our injuries are much worst than anyone else in the Premier League, in the same way we also believe we are always last game to be shown on Match of the Day. Both are often NOT TRUE!