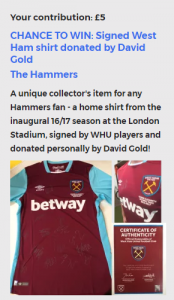 The Football Supporters  Federation (FSF) and Shrewsbury Town fans have launched a crowdfunding campaign to create a showcase for safe standing in England.
They wants MPs can see how well this will work in this country and hopefully be more likely to give the OK for safe standing everywhere, including at the London Stadium in the future.
David Gold has been very supportive of the safe standing concept and to help this crowd funding campaign, he has donated a West Ham shirt signed by the players in Maythis year , along with a certificate of authenticity, for the Safe Standing campaign organisers to 'raffle'.
Entries are now open to win the shirt and will run until
3pm
on Wednesday to win the Hammers shirt
.
At just £5 an entry, it's a great chance for West Ham fans who would like to see safe standing at the London Stadium to chip in a few quid to help make it happen and at the same time have an inexpensive chance of winning this signed shirt donated by David Gold.
Click below to donate a fiver and have a chance of signing the shirt