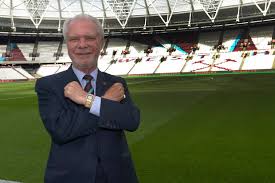 West Ham chairman David Gold has launched an attack on football agents  saying they are "sucking tons of money out of football"
Gold says agents "do nothing for football" as he called for support from international governing bodies to reduce the power of intermediaries. "They are starting to ruin football," he said.
Gold is reported by the media to have said "They are sucking tons of money out of football. We are all trying to pay less as they are doing nothing for football. The FA certainly is line with our feelings that something has to be done. Now it's Fifa and Uefa we need to come into line and we are hoping they come up with something."
Gold was at a meeting on Thursday where Premier League clubs discussed the idea of putting a stop to agent payments
West Ham are thought to have spent millions in agent fees signing  Felipe Anderson and Łukasz Fabiański but also free agents Jack Wilshere and Ryan Fredericks.
The Hammers spent £8.39m in 2017 on agent fees when figures were published by the Premier League in April but this is set to increase massively after a £100m spending spree over the summer.