It is with deep sadness that we have to write that David Gold has died following a short illness. He was 86.
The joint-chairman of the Hammers served the club with distinction both as a youth player and later as chairman.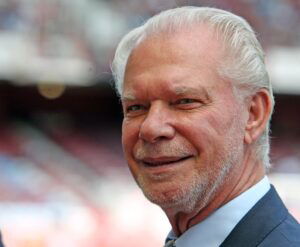 He and David Sullivan purchased the club outright in 2010 and have overseen some wonderful nights, including the final game at the Boleyn, and the Europa League semi-final.
The club has confirmed that David passed away surrounded by his family; his daughters, Jacqueline and Vanessa, and his fiancée Lesley were all by his bedside.
Born in 1936, Gold passed away on Wednesday morning, and it is with a heavy heart that we have to write this report.
Hugh Southon knew David well, although he is currently away on holiday; once he returns, he will share his memories of the great man with a full obituary.
DG supported West Ham all his life, and his business partner, David Sullivan, has issued a heartfelt tribute to his late friend.
Speaking to the club's official website, he said: "On behalf of everyone at the football club, it is with profound sorrow and a heavy heart that we mourn the passing of our colleague and friend, David Gold.
"Of all our joint ventures, none gave us more pride and happiness than the day we took ownership of West Ham United, our Club, in January 2010. David had a long-standing connection with the Hammers, having grown up opposite the Boleyn Ground in Green Street, and represented the Club at junior level. He always wanted what was best for West Ham United, and his passing is a great loss for all of us." 
Manager David Moyes added: "I am extremely sad to hear this news and, on behalf of all of the players and my staff at the training ground, I would like to extend our deepest sympathies to David Gold's family at this very difficult time.
"Mr Gold was a regular visitor to Rush Green and always a source of great support and encouragement to myself and the players. It was clear that he had a genuine and sincere love for the Club and was a true supporter at heart. He took a great interest in the people working behind-the-scenes and was always keen to help in any way he could. He will be greatly missed."
We would like to send our sincere condolences to the Gold family. You will be sorely missed, David.