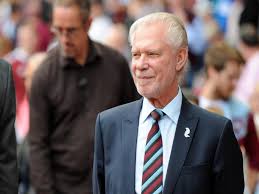 West Ham Joint-Chairman David Gold has hit back at supporters who have pointed to Manchester City as a role model of how to complete transfer business this summer.
One Hammers fan pointed out that Man City's interest in Bernardo Silva broke in the morning and they had signed by the evening telling Gold 'That's how you do business'.
Gold replied: "When you own a country you can buy any thing you want. dg" later adding "They are super wealthy, money no object. dg"
City is owned by Sheikh Mansour bin Zayed Al Nahyan who is the ruling remember of the Royal family which owns Abu Dhabi.
In reality, there is little difference between the country's wealth and that of the royal family, they are considered one and the same thing. Sheikh Mansour is said to worth £30 billion individually but the royal family's wealth is estimated at $1 trillion.
Sheikh Mansour bought the club in 2008 for £210 million and has since accumulated annual losses of £535 million, excluding approximately £200 million on the rented stadium. However, the value of the club has soared nearly fivefold from £210 million in 2010 to £900 million in 2015 according to Forbes.