By Max Willow
Whilst the initial response from West Ham fans to the David Moyes appointment was resoundingly negative, there is a lot more to the man than meets the eye, and it would be foolish to pigeon-hole him at this stage of proceedings.
Before going any further let me make one important comment. Contrary to the wisdom of many pundits, Moyes will play the formation he feels is best suited to tackle each opposing team. He has a reputation for sending one of his staff
to watch the games of the upcoming opposition, weeks ahead of the time of the actual game.
Furthermore, he will not hesitate to change the formation shape during the course of a game, in an attempt to improve the end of game outcome.
Moyes's 'ideal team' is well organised, tactically disciplined, mentally tough and hard to beat. Let's look at a few of the tactics and strategies that characterised the approach that Moyes used in a very successful 11 year
stint at Everton.
Rest assured that Moyes will initially direct his attention at tightening our defence. In the great Scottish tradition, and will make use of wingers; he will also encourage left and right backs to venture up-field, and when necessary, play as over-lapping wingers.
 He will push the guys hard at training sessions (already evident in his second double training session), in order to attain maximal fitness, something that has been sorely missed. In his early days of football management, he preferred the use of the 4-2-3-1 and/or 4-4-1-1 formations. However, he has been known to play with a 4-4-2, or even a 3-4-3, depending on the circumstances of the game and the nature of the opposition.
 Everton 4-2-3-1 Formation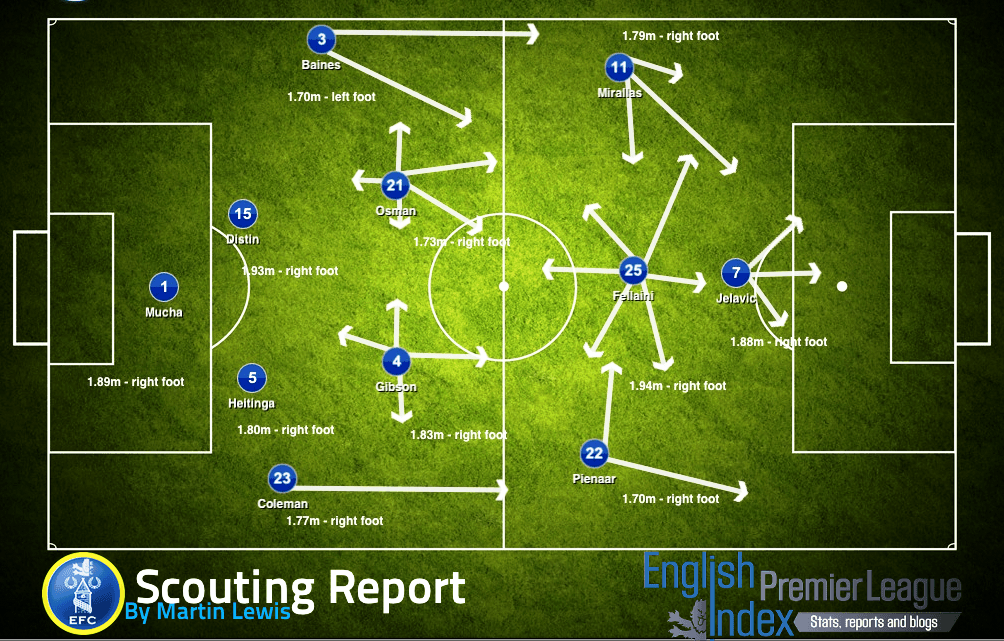 Everton 3-4-3 (flexible) formation (come 4-5-1, with 2 strikers into MF, and
one MF into defence)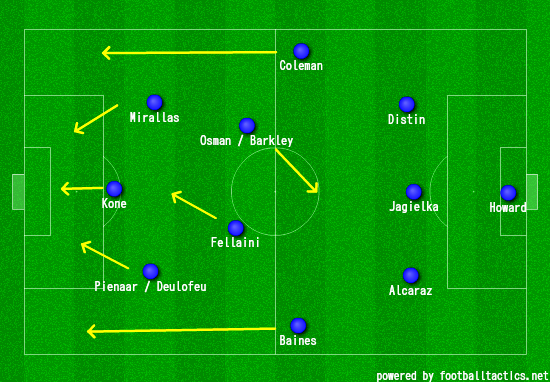 Again, we observe the multiple responsibilities that Moyes would often
assign to each player in his time at Manchester United.
Manchester Utd. 4-2-3-1 Formation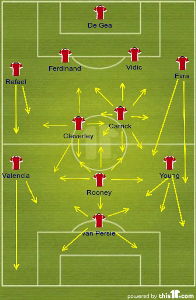 Moyes encouraged Everton to pass the ball short when required, while also acknowledging that passing the ball directly to the final third in order to create an end product, is of significant importance. At West Ham, Moyes may
encourage a wider range of passing options in an attempt to seek out the end product, but not at the expense of his team's possession.
One aspect of his previous tactical approach, no matter which team he managed,  and which formation he employed, was the deployment of a 'no.10' second striker, playing behind the main striker.
For many years at Everton, Moyes was an advocate of the 4-4-1-1 formation (in addition to the 4-2-3-1), employing a second striker, direct wing play, and utilizing a solid defensive framework. Unlike other managers of the era,
who preferred playing a creative 'number 10' behind the striker, Moyes deployed a physical threat who could challenge in aerial battles throughout the attacking third of the pitch.
Australian veteran, Tim Cahill, was the first to thrive in the position playing off the central striker, followed by
Everton's key signing of Marouane Fellaini. Will he revert to this approach, or will we see something different with the input of the attacking-minded, assistant coach, Alan Irvine?
If Moyes should settle on the more physical approach, we might see Andy Carroll being chosen as the 'number 10'. That said, Andy will have to improve his level of fitness, diversity in tactics, and shooting prowess.
Personally, I hope that Moyes does not rely on this type of play! Maybe it will turn out to be an omen that Moyes has arrived early in the international break. It will allow him (and Alan Irvine) a bit more time to look (and assess) the variety of attacking options (like Sakho or Martinez) available at the club.
Furthermore, will he make better use of some of our brilliant U-23 players?
It was interesting and pleasing to note, the presence of Terry Westley at the first training session conducted by Moyes on Tuesday. This is one major criticism I had of Slav Bilic; he did not pay enough attention to see how
well our U-23's have been playing this season. Without any exaggeration, I firmly believe that we have up to 5-6 potential playmakers in that team.
 Conclusion
In summary, we should rest assured that Moyes will embark on an improved fitness program in addition to strengthening the defensive unit. In his stint at Everton, his defence was frequently among the best four in the EPL.
However, his attacking statistics were less impressive. The latest rumours have suggested that Moyes will add Alan Irvine to his management team. This may turn out to be a very astute move, given Irvine's personal emphasis for
playing attacking football.
Moyes could assign Irvine the job of the 'attacker/forwards' coach, which could pay handsome dividends in improving our goal-scoring record. Moyes has already gone on record that he would like his team playing fast, attacking football, but not to the detriment of problems in defence.
In terms of player management, Moyes will face a tough challenge in improving the state of his relationship with Chicharito, who has made it public that he would never play under Moyes again.
Let's hope that the experience at Sunderland, has made Moyes a wiser and more patient man.
On the basis of his initial enthusiasm and determination, taken together with the player talent available, I am cautiously optimistic that he can lift us out of the relegation zone towards a possible mid-table position.