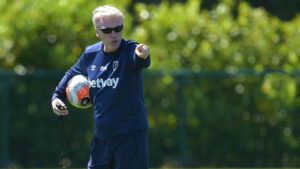 West Ham manager David Moyes is delighted with his players and how they have responded in lockdown.
He tells WHUFC.com that he is glad to resume contact training saying there is no substitute for it.
He also comments that Rush Green is a safe environment for his players and staff to prepare for the Hammers final nine games and that the safety of all players and staff remains his number one priority.
Moyes said: "I have been delighted with the way the players have responded to the work we have set them, both during the lockdown and since they have been able to return to Rush Green, first individually, then in small groups and now as the wider group," he said.
"I have also been delighted with the way my staff have responded to the challenges of working during the coronavirus pandemic, and I believe their positive approach means we are leading the way when it comes to preparing our squad, physically and mentally, for the restart.
"As a former player myself, I know that there is no substitute for group training. Not only does it mean you are moving, anticipating and reacting to situations as you would during a game, but you are also in a group dynamic, working as a team, as we will be doing on the pitch when football returns.
"Of course, through all of this, the health of our staff and players remains the number one priority and, following discussions with the Board, the Premier League, the PFA, LMA and the Government, and with strict medical protocols in place, including twice weekly COVID-19 testing, we believe Rush Green is the safest environment possible. We will continue to prepare the players as best we can for the prospect of playing our final nine games, collecting as many points as we can and finishing the Premier League season strongly."