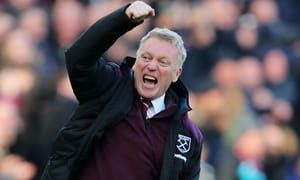 West Ham manager David Moyes has received a vote of confidence from supporters to carry on the job he started last November.
A Claret and Hugh poll of 1,390 fans today showed the majority of 62% (862) believes Moyes should be offered a new contract in the Summer with the remaining 38% (528) saying he shouldn't be offered a contract.
No contract negotiations from either side will take place until the end of the season when West Ham have guaranteed their Premier League status but there seems a willingness on both sides to conclude a deal over the Summer and an air of certainty that the club has no-one else waiting in the wings as an alternative option.
The appointment of a director of football that can work with David Moyes and the West Ham board will be a crucial decision as will the budget given to the new recruitment department this Summer to get on with the job without hindrance or interference.