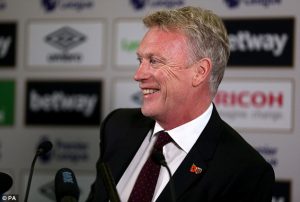 West Ham manager David Moyes says his best attribute is training with players
Moyes told reporters yesterday  "I think if you're asking me my best attribute will be on the grass with the players, training and I hope that we can see something that's needed there. Once they know they are running and sprinting the least, they need to step up.
We will give them the opportunity with sessions and hopefully they step up. I also want them to enjoy it. We have a lot of organisation to do as well so just know that they are working hard, trying to get the best out of all of them and hopefully it will show.
If anything, it has been a little bit frantic this week they are anxious to show, keen to show the new manager what they can do but there will be no favours. They will either do the work and get on with it, if they don't do the work then they are not playing. I am in a hurry and they need to be as well."