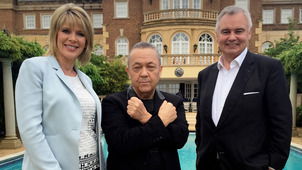 Eamonn Holmes and Ruth Langsford are invited for a behind-the-scenes tour of the London Stadium courtesy of co-owner Billionaire David Sullivan, as well as enormous Essex home. The show called 'How the other half lives' is aired at 9pm tonight on Channel 5.
David Sullivan's home called Birch Hall, near Theydon Bois, Essex comes complete with 14 bedrooms, a ten pin bowling alley, a games room, two swimming pools, a Japanese garden, mini football pitch and tennis courts. The garden overlooks a deer sanctuary.
Sullivan has filled his 25,000 sq ft home with items and artworks he loves. This includes a collection of horse racing trophies – some of which he has won with his own horses and some collectors items he has bought. He also has an unusual collection of servants made from silicone which stand on ceremony in various rooms. He tells the presenters they are works of art worth £50,000 each.
He had the mansion built by Ashby and Horner to Sullivan's design in 1992 and set in around 12 acres of land, at a cost of £7.5m for the land and building.
David told the presenters he doesn't feel any shame about how he made his money – and his sons are also proud of his achievements. He told the show: 'My sons know everything and think it is funny and marvellous. There is less stigma towards the sex industry in their generation. I am not ashamed of it – I only sold to adults and all my material was with adults. It is a dead business now as the sex shops make no money, I only keep them on for the staff.'