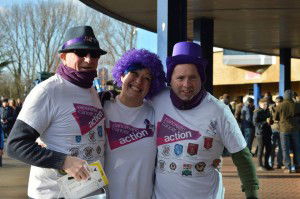 West Ham chairman, David Sullivan has shown his softer side by supporting the aims of a very small charity trying to raise awareness for 
Pancreatic Cancer on their road to the Wembley FA cup final.
David was approached and asked if he could help get two tickets for the FA cup replay against Manchester United at the Boleyn Ground for the charity's two founders Liam and Mel as they were struggling to get a pair of tickets.
Sullivan explained he wasn't able to help with tickets as the game was sold out but said that if they managed to get two tickets to let him know and he would make a cheque out for the charity for the their cost.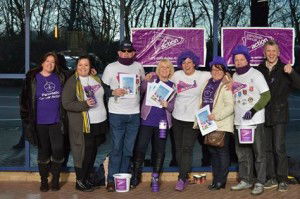 Liam and Mel were delighted at this response as it would be mean another £70 going to the charity.
When they managed to get tickets they contacted Sullivan again and were  blown away when he said, he would donate £1,000 to their campaign which stands at £2,200 so far.
In addition, he agreed the charity can do a bucket collection at the match.  The charity say they are beyond delighted that the club has embraced their small campaign allowing them to spread the word on awareness and raise some much needed funds for the Charity Pancreatic Cancer Action.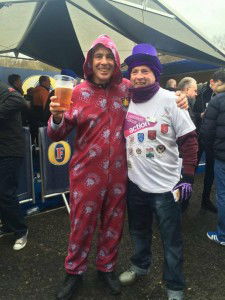 Liam and Mel started the campaign in memory of their great friend, Kevin Watts who died from pancreatic cancer on 22 December 2009 aged 48.
Kev's mum had died of the same disease in 1969 aged just 27 and although their deaths were 40 years apart, there had been NO improvement in survival rates in all of that time and pancreatic cancer rates are shockingly low.
Liam and Mel decided they wanted to raise some money and, perhaps more importantly, raise some awareness around the disease so they started their campaign on 15 August 2015 at the Extra Preliminary Round of the FA Cup at the Cleethorpes Town FC v Brigg Town FC fixture.
Cleethorpes Town gave them a great welcome at the match and when they won Liam and Mel  followed Cleethorpes to their next fixture and have continued to follow each winning team onto their next game.
To date, they they have attended 15 matches and been to 10 grounds.  Each Club has allowed a bucket collection and the handing out of awareness flyers. Only Manchester United declined permission to do this – all other Clubs have embraced the campaign and have been incredibly supportive is trying to be achieved.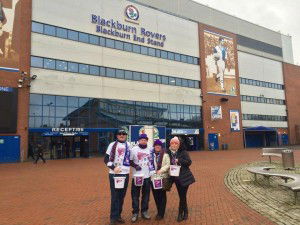 The campaign has taken the pair on the following road….they followed Cleethorpes to Clipstone. Clipstone won and drew a home draw so we were back there again.
From there we went to Rugby Town, then Brackley Town and then back to Rugby for a replay.  The cup draw then took them back to Brackley for two further rounds before moving onto Newport County  for a replay against Brackley.
Next they were at Barnet and then back to Newport County for the match against Blackburn Rovers – after a five hour journey and being only one mile from the ground  the match was called off because of inclement weather!
They then returned to Newport for the re-arranged fixture before following Blackburn Rovers to Oxford United and from there they followed Blackburn Rovers to their home fixture against West Ham.  They followed West Ham to Manchester United and are now following West Ham back at their ground for the replay.
Liam & Mel would love people to get involved in their campaign on social media
If you see Liam or Mel at the ground tomorrow say hi and they would greatly appreciate dropping a pound in their bucket.
Pancreatic Cancer is the 5th highest cancer killer in the UK. 23 people a day die from it. It can strike anyone at any age. It's often referred to as the "silent killer" because, usually, by the time a diagnosis is given, it is a terminal diagnosis. Only 4% of pancreatic cancer patients will survive 5 years and only 17% will survive for 1 year. Many patients die within weeks of diagnosis and, despite it being the 5th highest cancer killer in the UK, it only receives c1.5% of the research spend.