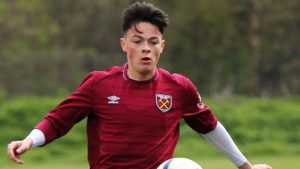 Academy plater Louie Watson has signed his first professional contract with West Ham. The attacking midfielder joined the Irons at the age of 12. Now 18, Watson has been rewarded with his first pro deal.
Watson has previously revealed that he models his game around the Manchester City star Kevin De Bruyne.
Speaking to the club's official website,  in March Watson said: "I like to score and create goals; that's what I'm about. One of the players I look up to is Kevin De Bruyne. He's the type of footballer I base my game around and he's the best at what he can do. At West Ham, I'd say my style is most similar to Manuel Lanzini. But in the modern game, there is definitely a demand for midfielders to be able to do both; score and make goals, and break up play. If you can do both, you've of course got an advantage."
Yesterday he told WHUFC.com "It's a great achievement, me and my family are really happy with what I have achieved and now I've got it I've got to work harder on and off the pitch to get to where I want to be and that's the Premier League.
"It's the first contract and hopefully the first of many, so I've got to push on. I hope to have a strong season with the 23s next season and ultimately get to the first team.
"It's all about how you do and how you present yourself on and off the pitch. If you're being the best you can be every day and do things properly, in training and in games, it will come together in your performances and that's the main part of it for me, really."
"It's every Academy player's dream to play in the Premier League and training and being around the first-team squad enables you to see their habits and what they have to do to get there and stay there," he said. "You've got to feed off what they do, on and off the pitch, and hopefully get a chance and then grab it with both hands when it comes.
"I'm working closely with Jack Collison, who is my mentor, going through my clips, working on extras and analysing my training sessions and games to get the best out of me. That has been very important to me, helping me to learn and repeat new movements, skills and tricks to help me better myself."