It was entirely right that Declan Rice should celebrate his 100th Hammers appearance with a big win.
And, as ever, the defensive midfielder played a major part in it, breaking up stuff in midfield and showing his willingness to get forward more and more.
On a day when nothing but a win would do, the young man played his part in a team which is finally starting to show signs of recovery following a fine performance at Liverpool and the comprehensive win over Southampton yesterday.
He was again a leading contender for man of the match but with Jarrod Bowen, Michail Antonio and Sebastian Haller performing so well up front with Diop and Ogbononna defending brilliantly it was a tight call all round.
At least it wasn't the usual race to the bottom and with Arsenal and Wolves next on the agenda the progress from Monday night very badly needed transforming into points.
And speaking at https://www.whufc.com/news/articles/2020/march/01-march/declan-rice-mark-my-100th-appearance-win-was-special he said: "Like I said after the game against Liverpool, today was massive, we all knew that, and we went out there and it was tough at times, but we got three great goals and three points on my 100th appearance, so I'm delighted,"
"I'm over the moon. From Burnley three years ago to now, I never thought I would make it to 100 for West Ham so it's a proud moment for me to make so many appearances for this special club with such a fanbase and history.
"They equalised against the run of play and leading up to that goal, we could have made it two or three-nil, so it's about cutting out those chances [for the opposition] and putting our two or three chances away to give us more confidence.
"I don't need to talk about the performance out there too much. We knew it was coming and we are all delighted."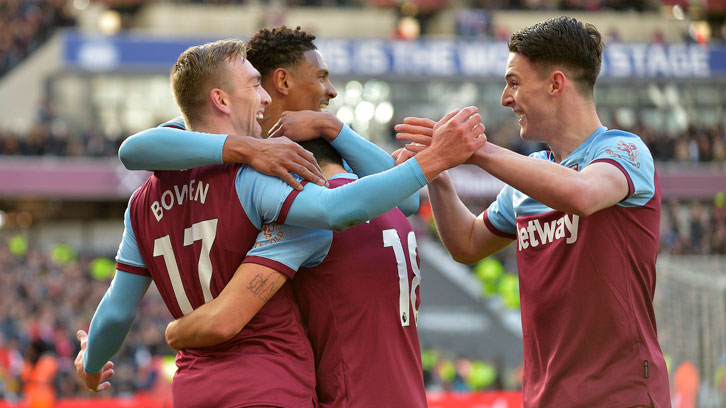 Rice praised manager David Moyes' decision to start Sebastien Haller, Michail Antonio, Jarrod Bowen and Pablo Fornals together for the first time, with all three forwards responding with a goal and Fornals registering two assists.
He added: "I thought the front four worked excellently today. Nobes and I in the middle and the back four were really concentrated and Seb had three or four chances and the one he scored was probably the hardest one. He decided to win it and the way he put it in the net was brilliant.
"Jarrod, I have to say, is top notch. He's very sharp and he'll be excellent for us. I think West Ham fans should definitely be excited about him because in training he dribbles around you, he's as sharp as anything and he will be getting chances in every game and I'm pretty sure he will put them in the back of the net like he did today.
"We should be confident about him and keep getting around him because he's an excellent signing for us."
"We've got ten massive games now. We have got winnable games at home and we feel like we've got what we need to get out of it, and of course we never wanted to be in it.
"We've got ten more to go, we're feeling positive about it and we're really happy."