By Dave Langton
Speculation over the future of Declan Rice is unavoidable at this point in time but he may well be left in limbo if he does not commit to a new contract at West Ham.
The Irons skipper's deal is running down and will expire in 2024, with the Hammers desperately keen to keep on the academy product for as long as possible.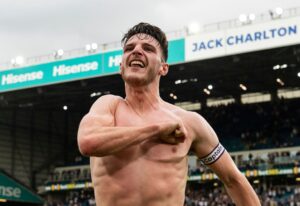 However, there is a belief at the club that big bids will be forthcoming in the summer transfer window, potentially to the tune of £120 MILLION.
That's a huge number for a player who cost the club absolutely nothing but it remains to be seen who will be doing the bidding.
Manchester United and Manchester City are both keen but Rice, and his girlfriend, are not particularly minded to move up north; only City would really be a guarantee of fighting for the Premier League title and the Champions League trophy, which is what Declan wants.
A move to Chelsea has consistently been mooted but Roman Abramovich made it abundantly clear to Frank Lampard that he did not want to sanction a giant move for Rice, having seen him slip through their fingers at youth level, before Lampard was given the boot. It is unclear if that stance has changed.
There are no other London clubs capable of paying the kind of money it would take to sign Rice and we have been told by a top insider that it's unlikely he would want to move abroad; even if he did, there are only a small handful of clubs who could actually afford him.
With Daniel Kretinsky now on the board at the club, there is a hope that the Hammers will be able to find the money to make him an offer he can't refuse to stay at the club.
The club cannot afford his contract to run down and they will keep trying to tie him down, but Rice may not have that many suitable suitors in the summer, unless he is willing to change his mind over where he wants to go. There is the possibility that he could well sign a short-term deal, perhaps even with a release clause, as he looks to see what kind of progress is made at the club after the new investment.
A bid of £120m would likely be accepted, purely because it is the kind of figure that cannot be turned down, but will Declan want to move to United if they are the only club bidding? It's debatable.
At City, too, he would have to put up with rotation and the warning signs are there already given that Jack Grealish's £100m move has hardly gone to plan, while there are plenty of midfielders already at Stamford Bridge, where he would be in direct competition with N'Golo Kante.
It's a story that is only likely to run and run but Rice has a decision to make, and time is  running out.