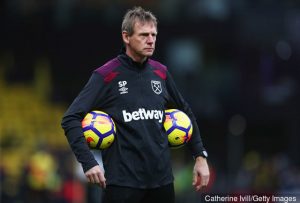 Declan Rice – despite his incredible form – is still getting a small rap across the knuckles now and again from the Hammers backroom team.
In times when we hear nothing but praise for the captain from here there and everywhere, it comes as a surprise that the club has to have a word in his ear about anything at all.
But Stuart Pearce – who knows a thing or two about giving his all on a football pitch – has made it clear that Dec has been told how to behave at the end of his newly developed lung bursting runs.
It may be exciting and has led to goals and assists but there's a mild criticism from 'Psycho' of the way the 23 year old reacts after he has burst into the opposition area  or close to it
He has told Declan not to show the world "you are knackered' after making such runs.
The West Ham coach added that Rice has a tendency to 'look tired' afterwards.
Pearce said Rice has this kind of walk after a bursting run that indicates he is tired, but it's something he has been told not to show,
Pearce told talkSPORT: "It's something we have tried to say to him. Don't show the world that you are knackered."