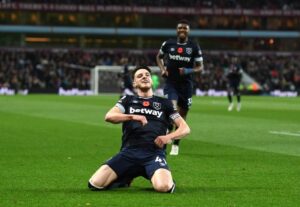 Declan Rice looks ready to take his place in the Hammers starting line-up against Wolves at Molineux on Saturday afternoon .
The Hammers captain was forced to withdraw from international duty with a virus after playing through the magnificent win against Liverpool at the London Stadium.
And it later emerged that the 22 year old had been struggling with the problem for a little while and both Gareth Southgate and the club clearly agreed a rest would be a good idea.
Given the ease with which England won their World Cup qualification games against the minnows of Albania and San Marino – scoring 15 goals along the way – he obviously wasn't missed and the break will have done him  good.
If anybody deserved a rest Declan was the man and we have learned from the club that he is fully recovered from the virus.
Unless David Moyes makes a highly unlikely decision to give him a further rest he will be leading the team against the eighth placed midlanders