Captain Declan Rice was as excited as any fan after a game of games but couldn't grab the full reality of what had happened at the Tottenham Hotspur Stadium during last night's totally epic 90 minutes.
It required an astonishing goal  for the Irons to maintain unbeaten run of games against top teams and send manager David Moyes into the sort of delirium seen by any manager anywhere any time.
Declan could only describe it as one of those magical moments you only get from this wonderful game as Manu Lanzini placed his shot into the only area of the goal where he could have scored – an astonishing effort..
And it was all far too much for Spurs players who trooped off looking as though the world had collapsed on them – err it had.
Afterwards Dec did his best to summarise an almost impossible 90 minutes and did a pretty decent job at https://www.whufc.com/news/articles/2020/october/19-october/declan-rice-it-was-just-one-those-special-moments-football.
Declan said: "Honestly, I can't tell you what happened at the end! It was just one of those special moments in football when it just seemed like it was meant to be.
"Obviously it was not the start we wanted. Going three goals down in 15 minutes is not what we've been about recently, but it still felt like we were playing good football and creating chances and it didn't feel like a 3-0 game.
"For some reason they dropped off us in the second half and didn't try to kill the game off and I think we grew into it and we said at half-time that once we got one we felt like we could go on and get a draw or get a win.
"It was a moment of brilliance from Manu and you could see the reaction from the boys. I can't put it into words!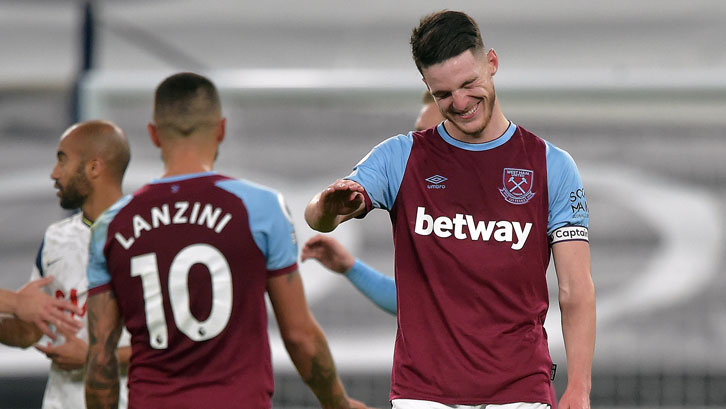 "Against a team like Spurs, with the quality they've got, 3-0 down and then Gareth Bale comes on and they've obviously got Kane and Son on the pitch, you're thinking 'Don't concede more goals. Close it off'.
"But, like I said, we were creating chances. Pablo [Fornals] missed a great chance and we created some other great chances.
"Once we got one, then the second one came right after, I thought 'Hang on, there is another ten minutes so we can definitely get one', and it was always going to be a goal like that to get the draw!
"I couldn't imagine what it was like for Manu to score that but, for me, I was just stood on the edge and as soon as it left his foot it was one of those ones where Lloris has tried but it's gone right into the stanch. You could see the reaction… what a game!"