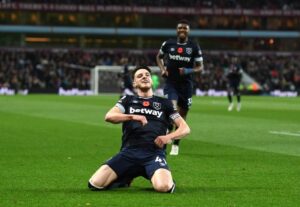 Declan Rice always offers great perspective and has done it again at the end of the busy Christmas and New Year following a hugely crowded  fixture list.
This far the squad has been involved in 29 games this season and despite key injuries remain in fifth place with 34 points.
Declan had a rare rest from action against Watford but was back playing his 24th game of the season in the win at Palace yesterday.
He has now become the youngest West Ham player to make 150 appearances and the club will offer him the biggest contract in their history in the summer. In the meantime we are holding our breath of course.
The reality is that despite setbacks earlier the squad have done brilliantly  given the circumstances to finish with six points from the last two games as they can now look towards a little rest from Premier League action for a few days.
Commenting, the captain said: "If you look at the schedule we've had, it's been crazy, and we've done great to come out on top of it."
On the Palace game he added: "They went up top with two strikers and with the atmosphere they have here at Selhurst Park, they can almost suck a goal in with the crowd.
"They were a handful, but we stood up to it. Obviously we didn't want to concede the two goals, but in the end we stood strong and got the three points we wanted.
I, personally, want to keep building and keep pushing and end  keep racking up the appearances."