By Hughie Southon
Declan Rice refuses to accept negatives and will be looking to prove those who deliver them completely wrong at the London Stadium later this afternoon.
The skipper is as desperate to escape the drop zone as every Hammers supporter in the world and is staying focused on the job at hand and not looking at the many distractions.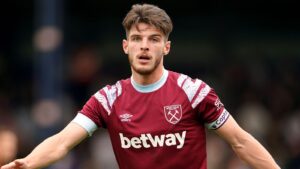 His eyes have left social media where the majority of stuff emerges and sinking himself into the positives he receives from family and friends.
It's clearly a good way to go and as a result we can expect him to give us one of his regular top displays when the midlands opposition arrives for the crucial 90 minutes.
Declan has recovered from the virus he picked up before the defeat by Spurs and will no doubt spearhead the Hammers drive for three points as things get underway at the London Stadium.
Speaking to www,whufc.com he said: "Nowadays, there is a lot of criticism, but I don't listen to it, and we have to shut all that out. I have done that. I'm not looking at social media or apps. I speak to my family and my friends and that's it.
"You have to take constructive comments to learn and get better, of course, and I've done that throughout my career, but when you hear stuff that isn't true, you just have to ignore it. I know I and the lads are trying to stay as focused and level-headed as possible and tackle the job at hand.
"We have spoken together as a group, both after the game at Spurs and again this week, and every player knows we haven't been good enough. We should not be in this position, but the reality is that we are, and we know as players that we can only dig deep and ensure this football club stays in the Premier League.
"At the moment, where we are is not good, but it's down to us to keep positive and keep pushing each other as hard as we can and, with the fans behind us today, we're looking to collect three big points."